Seamless Land and Water Surveys
The area between land and water is one that has been difficult to survey with traditional methods. One of Aqua Survey's specialties is creating engineering-quality 3D models of this transitional zone through the application of recent technological advancements.
Seawalls, headwalls, wharfs, piers, bulkheads, sheet pile, utilities and other waterside structures are often difficult to measure and assess.  Urban waterways present unique challenges to engineers due, to the density and complexity of objects near the waterline.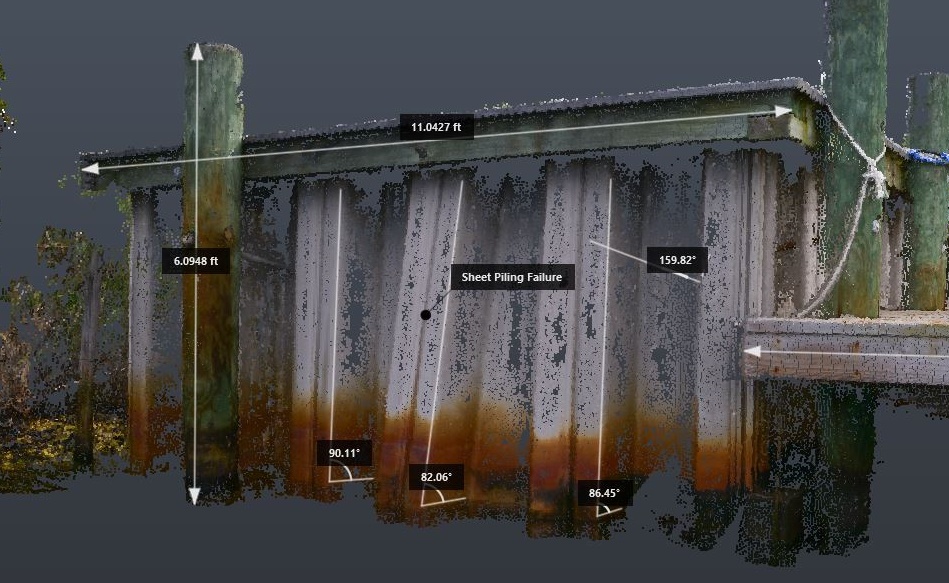 Engineering measurements of a Sheet Pile taken from photogrammetric imaging
Through the combined use of water-side and drone-based survey techniques, ASI can generate a seamless transition between landside and underwater survey data, using survey tools such as side scan or multibeam sonar, magnetometer and EM (Electro-Magnetic).
Multibeam bathymetry model of the Hudson-Athens Lighthouse
Our survey techniques provide you a photorealistic representation that is not just pretty to look at, but contains real-world metrics, allowing you to make accurate measurements right from your desktop. Models can be viewed through a web browser, the Autodesk Suite or your preferred CAD program.
Sites change over time. With repeated visits, a historical database can be created to monitor trends. A leaning seawall or sheet pile's angle can be measured or conditional assessments can be made and monitored for change.
Learn more about this useful technique in the video below